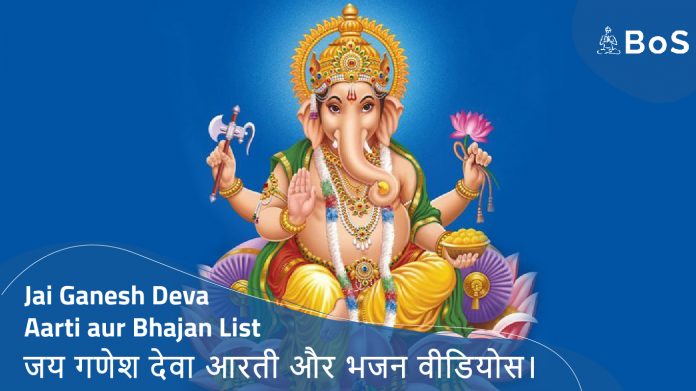 Jai Ganesh Deva Aarti: Aarti is also called "Aaratrik" and "Neeranjan". Keep in mind that if you chant mantras during Aarti, it will be better for you, but even if not, aarti done with Deepak or Kapoor with pure mind can also prove your desire.
At the same time, whenever you perform aarti, do include the bell and conch shell (Shankh) as it purifies the environment around you, all kinds of negative energy in your house will come out of the echo of these sacred sounds. Also your prayers reach God without any hindrance.
Not only this, but also keep in mind that the number of lamps or things should be in the order of one, five or seven. At the same time, if you are using camphor for aarti, then the same rule will apply in it.
Best Ganesh Bhajans & Aarti Videos : Watch FREE here
Five Essentials of Ganesh Aarti
Do you know that the five parts of the Aarti are considered: first lamp, second clean water or Gangajal, third clean cloth, fourth mango or sacred leaf of Peepal and fifth worship. Whether it is a morning or evening, or a special worship Ganesh Aarti, these five things must be followed sequentially.
Why we turn diya around during Ganpati Aarti?
When we all perform Ganesh ji ki Aarti, we will definitely light the lamp (Diya).
But have you ever wanted to know what is the rule of turning the lamp?
What number should be the time to rotate the lamp?
At the beginning of the aarti, first of all, move it four times at the feet of the Lord, then twice near the navel, take the lamp over the mouthpiece and then rotate it there once. After this, rotate aarti at least seven times or more on all the organs.
No worship in Hinduism is started without performing the Aarti of Lord Ganesha. Because Ganpati ji has got the title of the first deity. Therefore he is remembered in every auspicious task.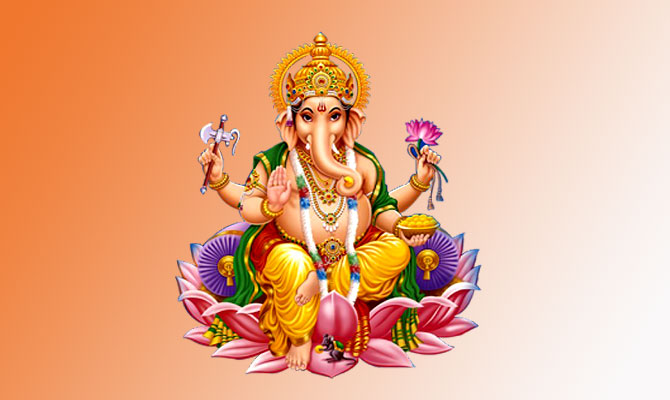 Here is the Ganesh ji ki Aarti that will help you to get rid of all your Obstacles and Problems of life.
जय गणेश जय गणेश जय गणेश देवा।
माता जाकी पार्वती पिता महादेवा॥
एकदन्त दयावन्त चारभुजाधारी।
माथे पर तिलक सोहे मूसे की सवारी॥
पान चढ़े फूल चढ़े और चढ़े मेवा।
लड्डुअन का भोग लगे सन्त करें सेवा॥
जय गणेश जय गणेश जय गणेश देवा।
माता जाकी पार्वती पिता महादेवा॥
अन्धे को आँख देत, कोढ़िन को काया।
बांझन को पुत्र देत, निर्धन को माया॥
'सूर' श्याम शरण आए सफल कीजे सेवा।
माता जाकी पार्वती पिता महादेवा॥
जय गणेश जय गणेश जय गणेश देवा।
माता जाकी पार्वती पिता महादेवा॥
गणेश जी की सबसे अच्छी वीडियो प्लेलिस्ट : यहाँ क्लिक करे और देखे FREE
Shri Ganesh Puja is very important in itself. Whether it is for the success of any work or whether it is for any wish for the woman, son, grandson, money, prosperity or suddenly for the relief of sorrows in any crisis.
That means that whenever a person is afraid of any evil or has to suffer many kinds of physical or financial problems, he should keep fast and worship the Sri Ganapati Prabhu and Shiva family with reverence and trust with the help of a qualified and learned Brahmin.
Ganesh ji is also called Vinayak which means a typical Hero. Durva has special significance in the worship of Ganesha. Worshiping him without Durva is considered incomplete.
Along with this, Ganapati also loves Modak. Modak means 'Mod Ananda' by offering it to Ganesha will fulfills all your wishes.
To attain the Grace of Ganpati Bappa, you can also listen Ganpati Hit Bhajans
Siddhi Vinayak Jai Ganpati
Om Gan Ganpataye Namo Namah
Ganpati Bappa Har lo Bhakto ki Peer
Namami Shri Ganraaj Dayal
Karu Vandan hey Shiv Nandan
Ganesh Vandana is considered auspicious before every auspicious work or festival. Worshiping Ganesh ji is going to remove all sorrows and bring prosperity in life. Therefore, all devotees should perform Ganesha Vandana with full devotion and faith before every auspicious work while listening to these enlisted Ganpati Hit Bhajans.
Also Check :
– Krishna ki Kahani | Story of God Krishna
– Best Bhagwad Gita Quotes by Sri Krishna
Check out our Youtube Channel for Latest Videos & Download Our Mobile App
Youtube Channel : BeautyofSoul Lessons
Mobile App : Android Play Store