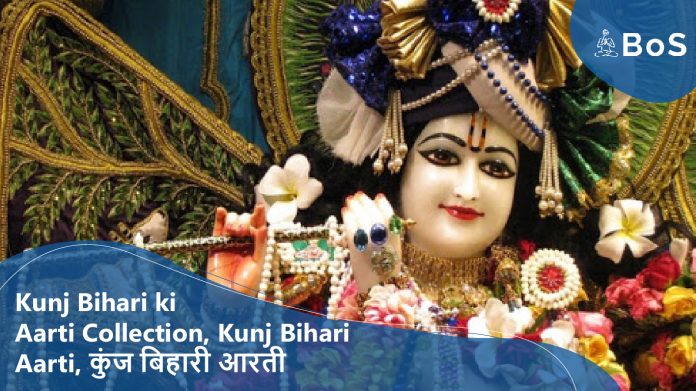 Aagar aap bi sunna chahte hae kunj bihari aarti toh aap bilkul shi jgh aaye hae. Beauty of Soul laaye hae aapke liye bahut sundar aarti kunj bihari ki in hindi. हरिहरन आरती कुंज बिहारी की sunne se pehle chaliye jaan lete hain kunj bihari ka nirwaan kha hua ta.
Kanha g ko bhgwaan krishan aur Kunj Bihari kha jata hae. Bhagavaan krshn ka janm mathura mein hua tha. Unka bachapan gokul, vrndaavan, nandagaav, barasaana aadi jagahon par beeta. Apne maama kans ka vadh karane ke baad unhonne apane maata-pita ko kans ke kaaraagaar se mukt karaaya aur phir janata ke anurodh par mathura ka raajabhaar sambhaala. Janata bhee kans jaise kroor shaasak se mukt hona chaahatee thee. Kans ke maare jaane ke baad kans ka sasur jaraasandh krshn ka kattar shatru ban gaya. Jaraasandh magadh ka atyant kroor evan samrajyavad pravrtti ka shaasak tha.
Krishan se badala lene ke lie jaraasandh ne poore dal-bal ke saath shoorasen janapad (mathura) par ek baar nahin, kaee baar chadhaee kee, lekin har baar vah asaphal raha. Puraanon ke anusaar jaraasandh ne 18 baar mathura par chadhaee kee. 17 baar vah asaphal raha. Antim chadhaee mein usane ek videshee shaktishaalee shaasak kaalayavan ko bhee mathura par aakraman karane ke lie prerit kiya. Kaalayavan ke maare jaane ke baad us desh ke shaasak aur usake parivaar ke log bhee krishan ke dushman ban gae.
Ant mein krishan ne sabhee yaduon ke saath milakar mathura ko chhodakar jaane ka phaisala kiya. Vinata ke putr garood kee salaah evan kakudmee ke aamantran par krshn kushasthalee aa gae. Vartamaan dvaarika nagar kushasthalee ke roop mein pahale se hee vidyamaan thee. Krishan ne isee ujaad ho chukee nagaree ko punah basaaya. Khna chaahie ki bhagavaan krishan ne apane poorvajon kee bhoomi ko phir se rahane laayak banaaya tha.
Krishan apane 18 nae kul-bandhuon ke saath gujaraat ke tat par basee kushasthalee aa gae. Yaheen par unhonne bhavy nae dvaarika nagar ka nirmaan karaaya aur sampoorn nagar ko chaaron or se majaboot deevaar se kilaaband kar diya. Bhagavaan krishan ne yahaan 36 varsh tak raajy kiya. Yahaan ve apanee 8 patniyon ke saath sukhapoorvak rahate the. Yaheen rahakar ve hastinaapur kee raajaneeti mein sanlagn rahe. Yaheen se unhonne sampoorn mahaabhaarat ka sanchaalan kiya.
Dharm ke viruddh aacharan karane ke dushparinaamasvaroop ant mein duryodhan aadi maare gae aur kaurav vansh ka vinaash ho gaya. Mahaabhaarat ke yuddh ke pashchaat saantvana dene ke uddeshy se bhagavaan shreekrshn gaandhaaree ke paas gae. Gaandhaaree apane 100 putron kee mrtyu ke shok mein atyant vyaakul theen. Bhagavaan shreekrshn ko dekhate hee gaandhaaree ne krodhit hokar unhen shaap diya ki tumhaare kaaran jis prakaar se mere 100 putron ka naash hua hai, usee prakaar tumhaare vansh ka bhee aapas mein ek-doosare ko maarane ke kaaran naash ho jaega. Bhagavaan shreekrshn ne maata gaandhaaree ke us shaap ko poorn karane ke lie apane kul ke yaadavon kee mati pher dee. Eska yah matalab nahin ki unhonne yaduon ke vansh ke naash ka shaap diya tha. sirph krshn vansh ko shaap tha.
Mahaabhaarat ka yuddh samaapt ho chuka tha. Krishan dvaarika mein hee rahte the. Paandav bhee yudhishthir ko raajy saumpakar jangal chale gae the. ek din ahankaar ke vash mein aakar kuchh yaduvanshee baalakon ne durvaasa rshi ka apamaan kar diya. Gaandhaaree ke baad is par durvaasa rshi ne bhee shaap de diya ki tumhaare vansh ka naash ho jae. Unake shaap ke prabhaav se krshn ke sabhee yaduvanshee bhayabheet ho gae. Ess bhay ke chalate hee ek din krshn kee aagya se ve sabhee ek yadu parv par somanaath ke paas sthit prabhaas kshetr mein aa gae. Parv ke harsh mein unhonne ati nasheelee madira pee lee aur matavaale hokar ek-doosare ko maarane lage. Ess tarah bhagavaan shreekrshn ko chhodakar kuchh hee jeevit bache rah gae.
Arti kunj bihari ki, kunj bihari ke gaane, and kunj bihari songs aapke hirdye ko paavan aur pavitar kar denge. Kunj bihari ki mahima sabpe bani rahe. Hamari kunj bihari aarti list mein kunj bihari latest aarti, kunj bihari videos, hariharan aarti kunj bihari ki, aur kunj bihari bhajans shaamil hae.
Kunj Bihari Aarti Collection:
1- Aarti Kunj Bihari Ki KRISHNA AARTI with LYRICS By HARIHARAN I FULL VIDEO SONG I JANMASHTAMI SPECIAL
2- Krishna Aarti – Main Aarti Teri Gau O Keshav Kunj Bihari Full Song | Krishna Bhajan | Morning Bhajan
3- Krishna Aarti | श्री बाँके बिहारी तेरी आरती गाउ | Sri Banke Bihari Teri Aarti Gaun | Shyam Bhajan
4- Aarti Kunj Bihari Ki KRISHNA AARTI with LYRICS By HARIHARAN I FULL VIDEO SONG I JANMASHTAMI SPECIAL
– Best Shyam Baba ke Bhajan | Shyam Baba Bhajan | श्याम बाबा के भजन
– Best Hari Bharwad na Bhajan | Hari Bharwad ke Bhajan | Superhit Videos List
Check out our Youtube Channel for Latest Videos & Download Our Mobile App
Youtube Channel : BeautyofSoul Lessons
Mobile App : Android Play Store