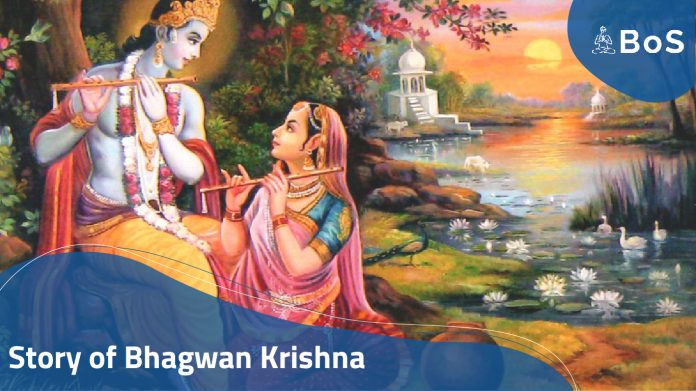 Story of Krishna: In this article we will tell you the Life Story of Krishna from birth to death in brief. The story of Krishna is a source of love, sacrifice, and immense knowledge. Shree Krishna is considered as the eighth incarnation of the God of Hinduism, Lord Vishnu. People know him by different names like Shyam, Gopal, Keshav, Dwarkadhish, Kanhaiya etc. He incarnated as Shree Krishna in Dwapara Yuga. Bhagwan Krishna was born in very difficult and terrible circumstances.
Let us tell you the entire Krishna Story….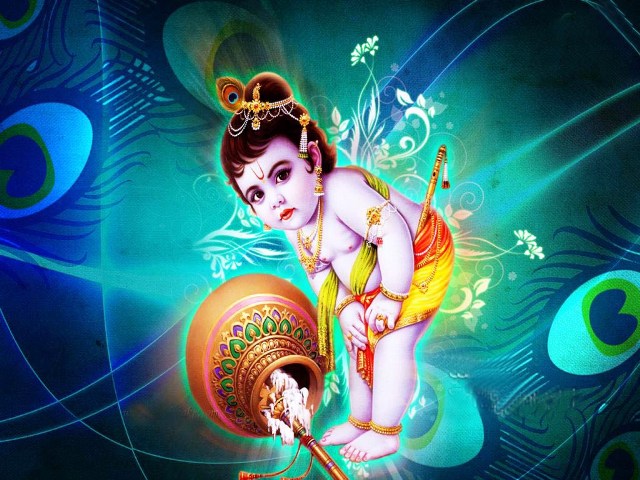 Once Kansa, the king of Mathura who was the brother of Devaki was going to leave his sister Devaki to her in-law's place when there was a sudden Akashwani took place. It was told in the prediction that the eighth son born from the womb of your sister, that is, Devaki, whom you are happily taking to her in-laws, will kill you. Kansa got scared and then he asked his slaves to kill Vasudev (Devaki's husband).
Then Devaki pleaded in front of Kansa and said that I will bring myself and hand over my child to you, your brother-in-law is innocent and what will be the benefit of killing him. Kansa agreed to Devaki and decided to put Vasudev and Devaki in the prison of Mathura. Shortly after that in prison, Devaki and Vasudev had a child. As soon as Kansa came to know about this, he came to the prison and killed that child. Similarly Kansa killed seven sons of Devaki and Vasudeva one by one. When the eighth child's turn came, the guard in the prison was doubled. Many soldiers were deployed in the prison.
Birth of Lord Shri Krishna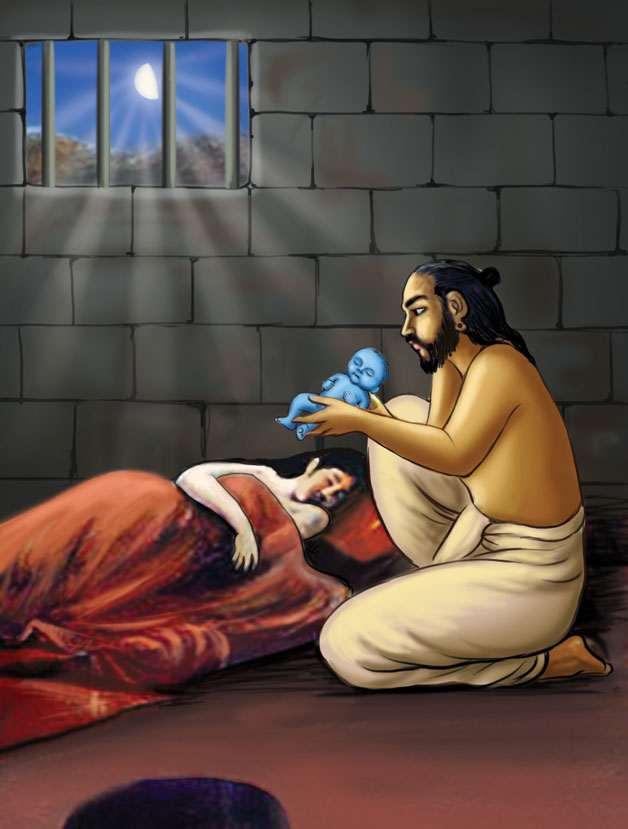 Yashoda and Nanda saw the problems of Devaki and Vasudev and thought of a way to protect their eighth son. At the time when the eighth son of Devaki and Vasudeva was born, at the same time a daughter was born to Yashoda and Nanda, which was just an elusive trick.
After the birth of the eighth son, there was a sudden light in the cell where Devaki and Vasudev were imprisoned. Lord Vishnu appeared in front of them. Devaki and Vasudev fell at his feet. Then God said – "I will take the form of a child again. You go to your friend Nanda with me and hand over me to them by bringing the daughter born to them. I know at this time the climate here is not right, yet you do not worry. All the prison guards will fall asleep while you will leave. The prison gate will open itself. Yamuna being burnt with water will give way. The snake will protect you and the baby from heavy rain."
Sri Krishna's Journey From Prison to Vrindavan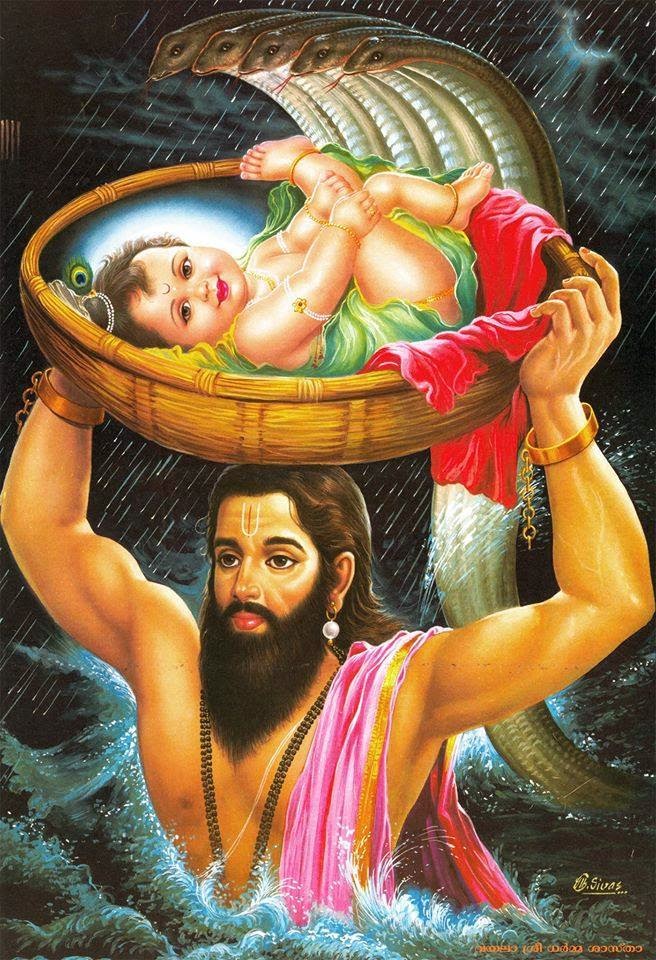 Vasudev ji left by putting Sri Krishna in a basket. They reached the house of Nanda in Vrindavan, crossing the tumultuous Yamuna. After putting the child to sleep beside yashoda, he came back in prison with her daughter.
After reaching back the gate closed automatically. As soon as Kansa got the news that Devaki had given birth to the child, he immediately came to the prison. And when Kansa tried to snatch and slam her, that girl immediately flew into the air and said "O evil creature, what will you get by killing me, your slayer has reached Vrindavan." After which she disappeared into thin air.
Kansa was horrified because the eighth was born and survived from his clutches. Now Kansa was upset and was desperate to kill Sri Krishna. Then he sent a rakshasa named Putana to kill Sri Krishna.
Pootna took the form of a beautiful woman and went to Vrindavan to feed Sri Krishna with her poisonous breast. Shri Krishna cut Pootana's breast while drinking milk. At the time of biting, Pootna regained her true form and died. When Kansa got information about this, he became depressed and worried.
Shortly after that he sent another demon to kill Shri Krishna who takes the form of a demon heron and immediately snapped to kill Shri Krishna, but Krishna caught him and threw him away. After which that demon fell straight into hell. Since then, that demon has been named Vakasur.
Kansa then sent Kalia Nag and then Shri Krishna fought with him and later he started dancing while playing the flute on the head of the Kalia Nag. After that Kalia Nag went away.
Similarly, Shri Krishna killed many demons of Kansa. When Kansa felt that this could not happen with the help of demons, then Kansa himself set out to kill Shri Krishna. There was a war between the two and Shri Krishna killed Kansa at the end.
Ras Leela of Sri Sri Krishna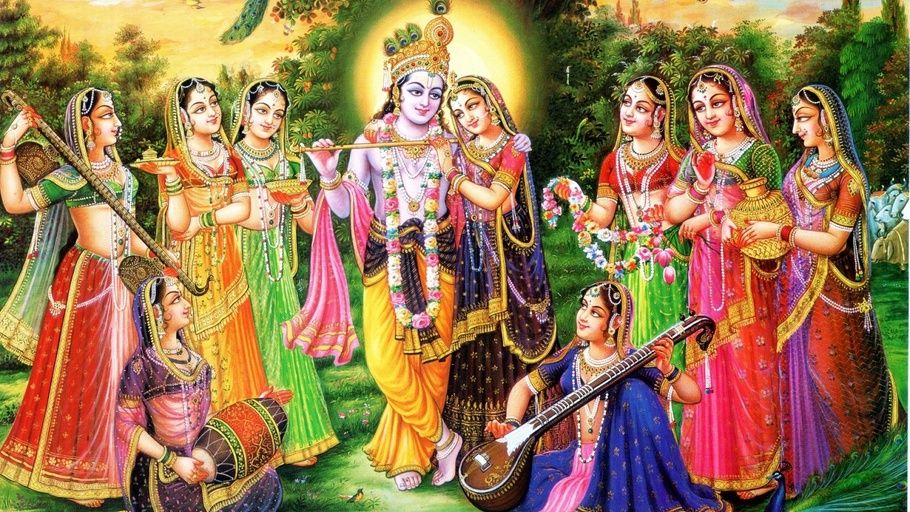 Shri Krishna used to play Ras Leela with Gopis in Gokul while playing his flute. All the Gokul residents, animals and birds etc. were very happy to hear the tune of his flute and they loved this voice very much. Sri Krishna loved Radha in Gokul.
Sri Sri Krishna and Balaram's Education in Ujjain
Shri Krishna's ignorance was ending and now the state was also in fear. That is why Shri Krishna and Balarama were sent to Ujjain for education. In Ujjain, both brothers started receiving education and initiation in the ashram of Sandipani Rishi.
Friendship with Sudama and post of Dwarkadhish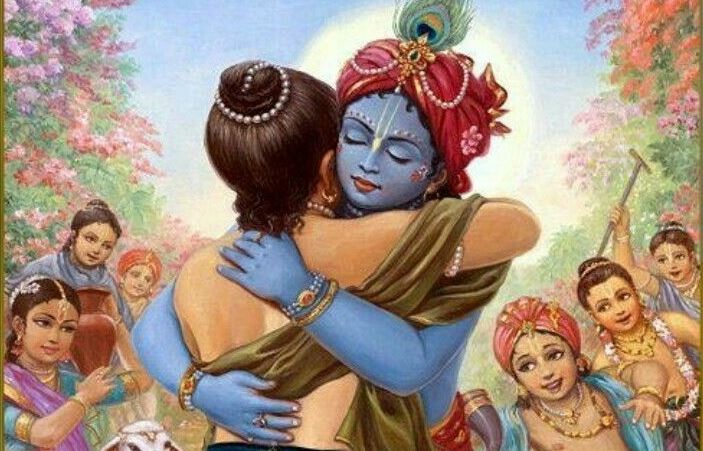 In the same ashram, Shri Krishna befriended Sudama. They were close friends. Discussions of their friendship were far and wide. Along with education and initiation, they came back after gaining knowledge of using weapons and then he became the king of Dwarikapuri.
Marriage of Sri Krishna and Rukmini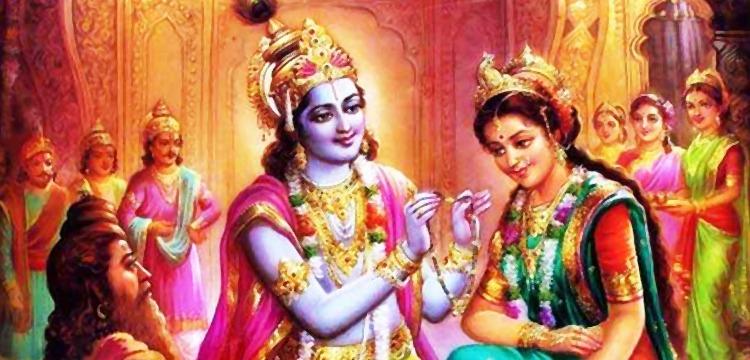 In the Dhar district of Madhya Pradesh, there was a town called Amjhera. At that time, there was the kingdom of King Bhishmaka. He had five sons and a very beautiful daughter. His daughter's name was Rukmini. She had dedicated herself to Shri Krishna.
But when she finds out from his friends that her marriage has been finalized with someone else. Then, she sent a message to Sri Krishna through an old Brahmin. As soon as Shri Krishna received this message, he immediately left from there. Shri Krishna came and kidnapped Rukmini and brought her to Dwarikapuri.
Shishupala also reached there while following Shri Krishna. He was the one to marry Rukmini. In Dwarkapuri, he faced a fierce battle with the two brothers Shri Krishna and Balaram's army. In which Shishupala's army was destroyed. The marriage of Shri Krishna and Rukmini was done very pompously and lawfully. Rukmini was at the top of all the Krishna's tracks.
Curse of Durvasa Rishi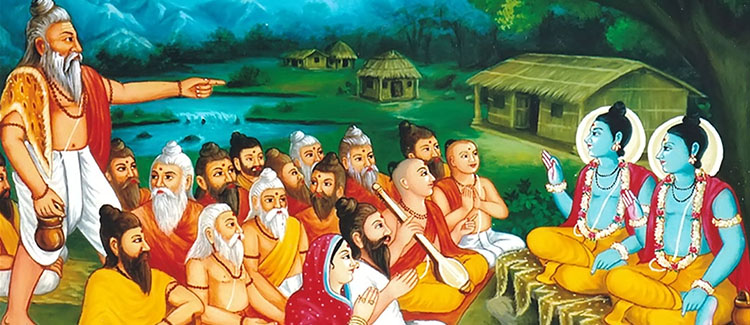 Even after almost 35 years of the Mahabharata war, Dwarka was very calm and happy, slowly the sons of Shri Krishna became very powerful and thus complete. Yaduvansh had become very powerful. It is said that once the son Samb of Sri Krishna had insulted the Durvasa Rishi, under the influence of fickleness.
After this, Durvasa Rishi came in anger and cursed Samb for the destruction of Yaduvansh. With being powerful, sin and crime in Dwarka increased very much now. Sri Krishna was very sad to see such an atmosphere in his happy Dwarka.
He suggested his people to get rid of their sins by going to the banks of the river Prabhas, after which all the people went to the banks of the river Prabhas but due to the curse of Durvasa Rishi, all the people drowned in Madira and argued with each other. This debate took the form of a civil war that destroyed the entire Yaduvansh.
Death of Lord Shri Krishna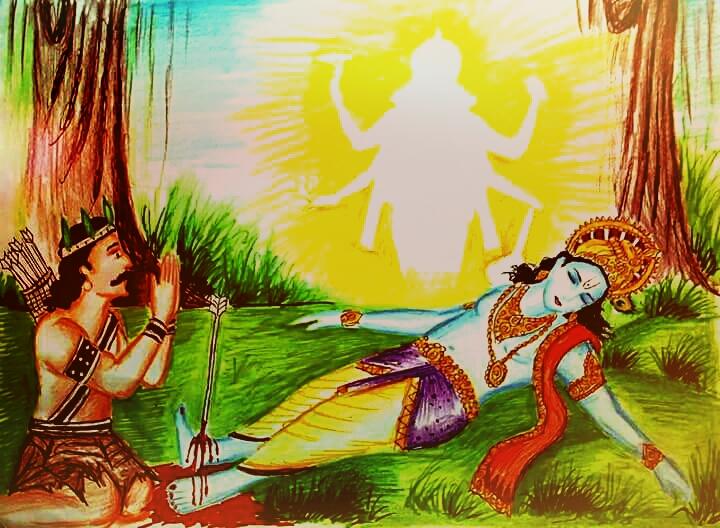 According to the Bhagavata Purana, it is believed that Shri Krishna took the destruction of his dynasty and was very upset to see such condition of his people. Due to this agony he started living in the forest. One day when he was resting in a yoga sleep under a peepal tree in the forest, then a hunter named Zara, considering his feet as a deer and attacked with poisoned arrows at him. The arrow fired by Zara pierced the soles of Sri Krishna's feet. Sri Krishna gave up his body as an excuse for the poisoned arrow and sat in the form of Narayana in Baikuntha Dham. Apart from renouncing the body, Dwarka city, settled by Shri Krishna, also merged into the sea.
Also Check :
– 21 Best Inspirational Quotes of all time
– 21 Best Quotes for Team Work | Office Quotes
Check out our Youtube Channel for Latest Videos & Download Our Mobile App
Youtube Channel : BeautyofSoul Lessons
Mobile App : Android Play Store